A great night was had by all when Steve and Jan put on our annual Halloween Quiz. Raffles, a picture quiz, questions and rounds of sticky 13 (a card based bingo game) made for a memorable evening and prizes were shared out amongst a 40 strong audience. The next quiz night will be on January 12th 2019 and for some reason is called our "Christmas Quiz"
We're very worried about Steve!
… but the food went down very well …
…. and sticky puddings were  followed by Sticky 13 …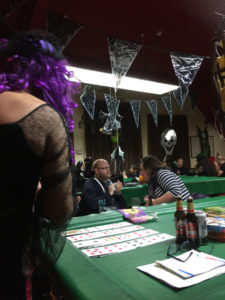 … and the snooker room will take some clearing up!